Located at Alexandra Village Food Centre, Xiang Jiang Soya Sauce Chicken sells Hong Kong-style soya sauce chicken, dumpling and wanton.
I stumbled upon Xiang Jiang Soya Sauce Chicken when I was queueing for Depot Road Claypot Laksa. Xiang Jiang's stall is just next next to Depot Road Laksa stall. I was surprised to see there's a stall with even longer queue than Depot Road Laksa. The next time I went to Alexandra Village, I decided to give Xiang Jiang a try.
According to their FB Page, the stall is run by Uncle Sun (ex-Raffles Hotel Head Chef for Chinese Cuisine, Cantonese-speaking ex-HongKonger) and Aunty Irene (Hokkien-speaking when kachiao-ing uncle).
Even though the official opening hour is until 2pm, they may close earlier if they are sold out.
On the day of our visit, we joined the queue at 12.30pm and there were only 2 soya sauce chickens left hanging. We got our food at 12.55pm. About 10 minutes later, there was no more chicken left and the owners turned off the light at about 1.05pm. Thankfully we managed to get our food in time.
Pro-Tip: Even though their official opening hour is until 2pm, don't go there too late, they might close early. Also, their dumpling is so popular and it often gets sold out before noon.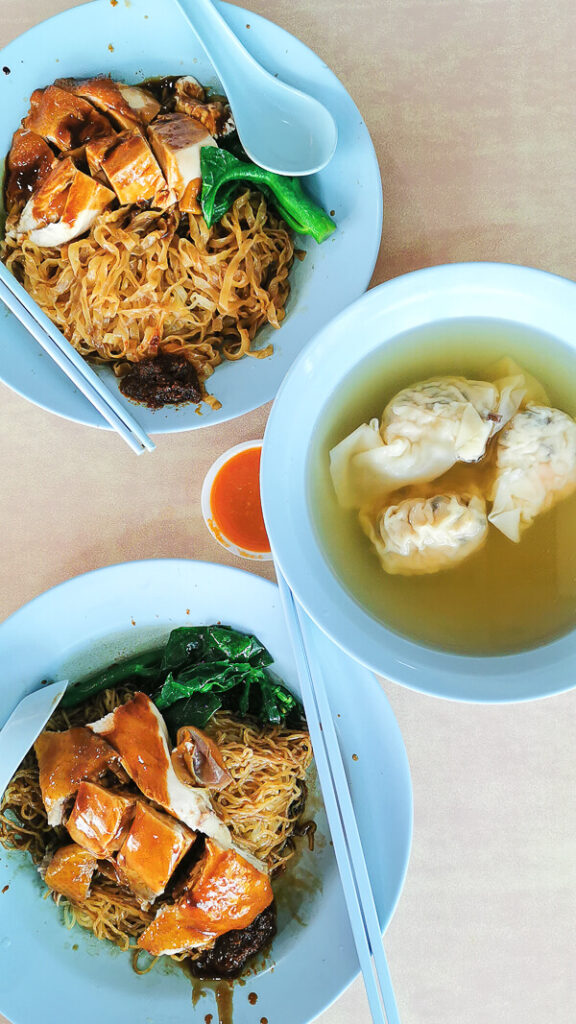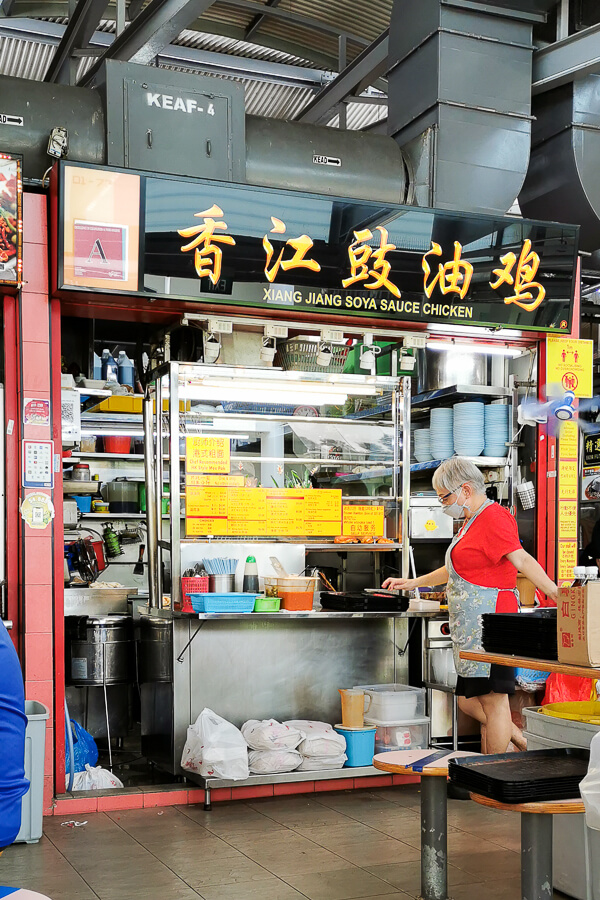 Menu & price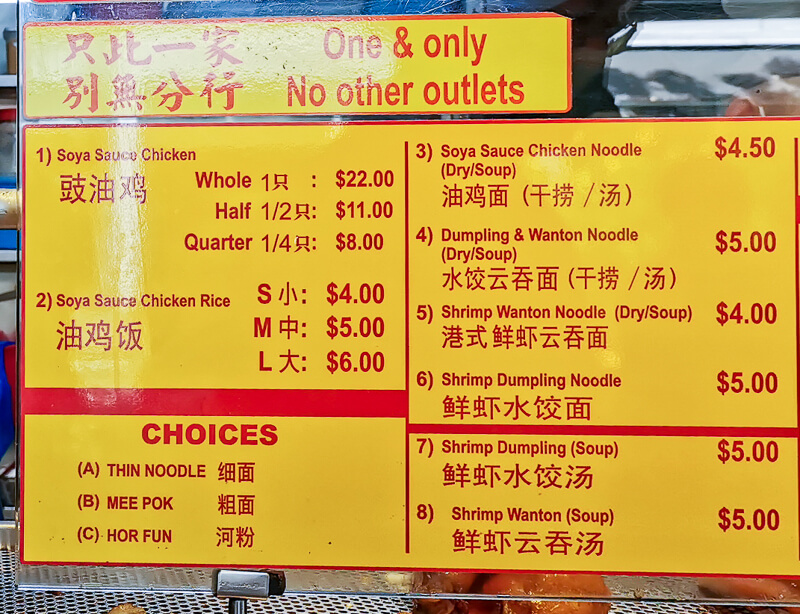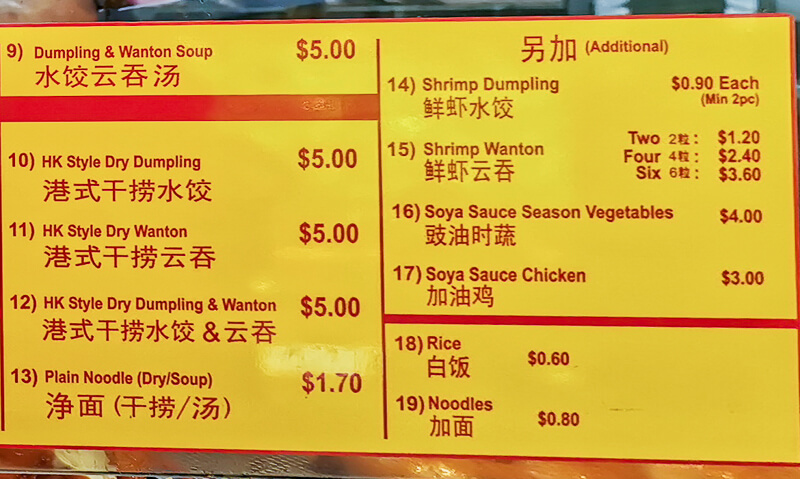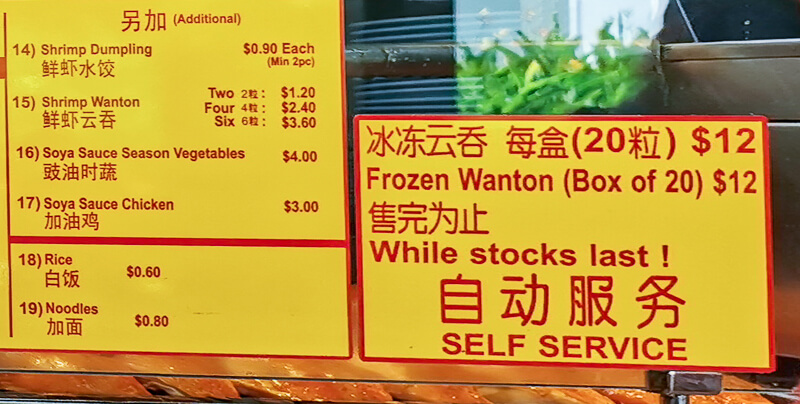 Soya Sauce Chicken Noodle (Dry) ($4.50)
There are 3 options of noodle: mee kia (thin noodle), mee pok (wide flat noodle) and hor fun.
We ordered 2 plates of soya sauce chicken noodle (dry), 1 with mee kia and 1 with mee pok.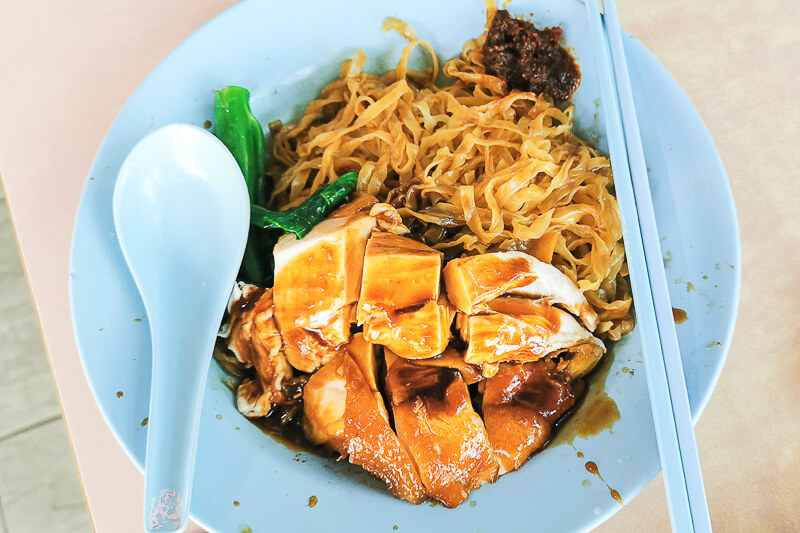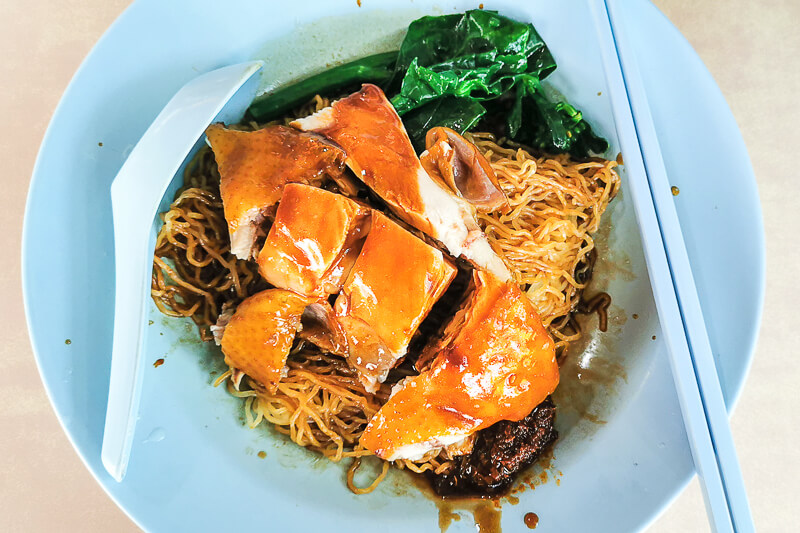 Having eaten Hawker Chan's soya sauce chicken before, I have something to compare Xiang Jiang's soya sauce chicken to. For me, I feel that Xiang Jiang's soya sauce chicken is really good and comparable with Hawker Chan's.
The breast meat is pristine white and tender, while the skin is coated with soya sauce. The noodle is accompanied with kailan and hae bee hiam chili.
You can also help yourself with the usual garlic chili that typically accompanies chicken rice.
Shrimp Dumpling ($0.90 each)
Xiang Jiang Soya Sauce Chicken's brand name implies that their specialty is the soya sauce chicken. But a lot of people (including me) don't think so. We think that Xiang Jiang's true specialty is the shrimp dumpling.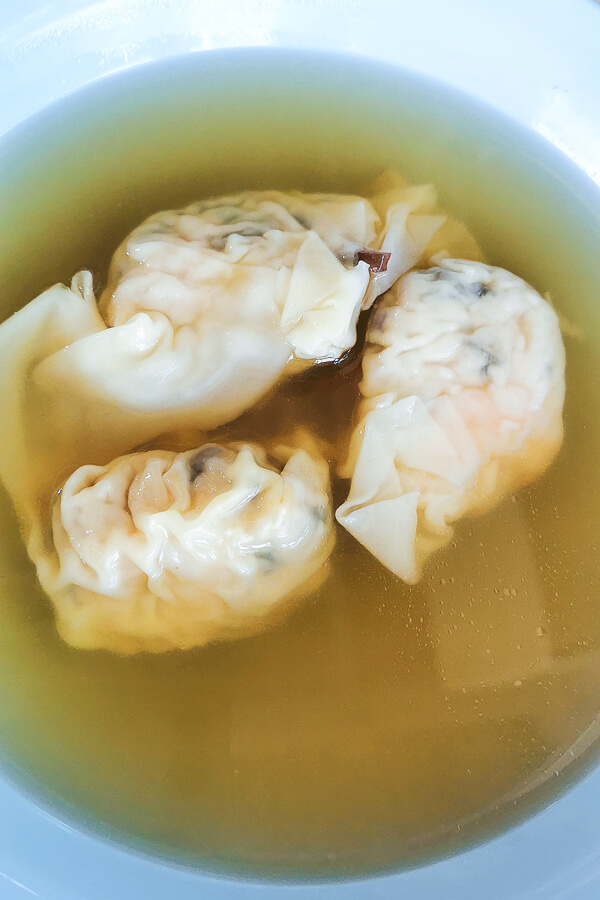 Please don't mix up dumpling and wanton. Shrimp dumpling costs $0.90 per piece (minimum 2 pcs), while shrimp wanton costs $1.20 per 2 pieces. Shrimp dumpling is a bigger dumpling than wanton and thus costs more.
We ordered 3 pcs of shrimp dumplings. Each shrimp dumpling consists of a tiny whole shrimp, minced pork, black fungus and water chestnut.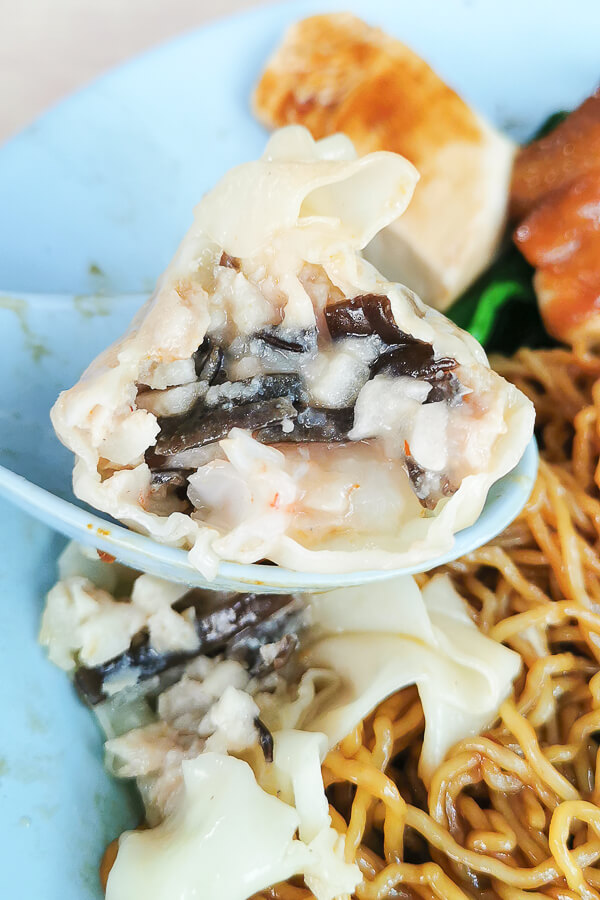 The soup is so tasty that we even requested for a top-up. Fortunately, the Aunty is really friendly and gladly accommodate our request.
Every bite of the shrimp dumpling is a delight! I can probably eat 10 pcs of the dumplings for a meal.
Shrimp Wanton Noodle (Dry) ($4)
We went back to Xiang Jiang for the second time because we didn't eat enough dumpling during our first visit. This time, we visited on a Saturday around 12.30 noon.
Guess what? They have sold out the dumpling! So we decided to have wanton instead.
We ordered shrimp wanton noodle, the dry version. It came with 5 pcs of wantons, vegetable and springy noodles with black sauce and chili.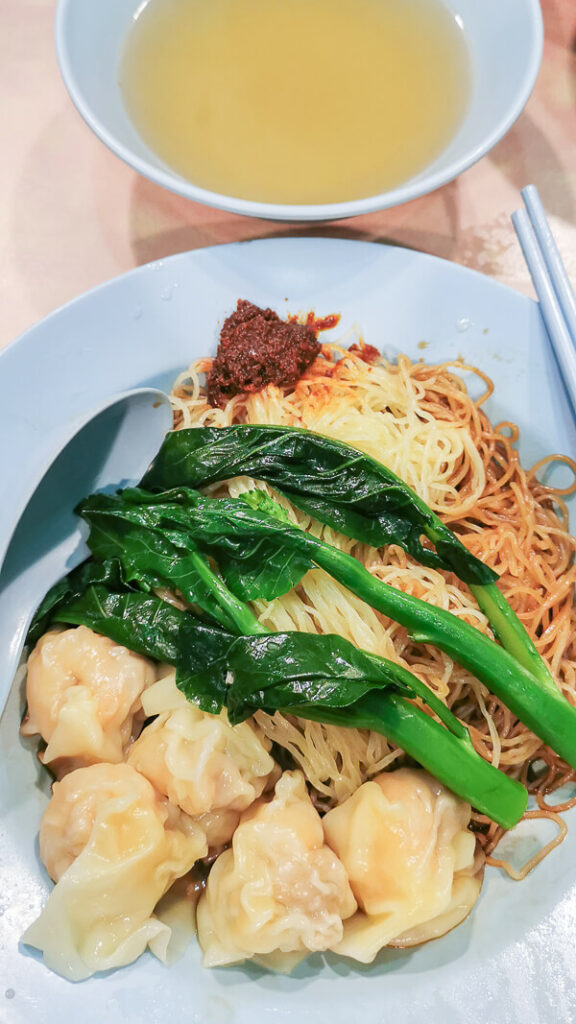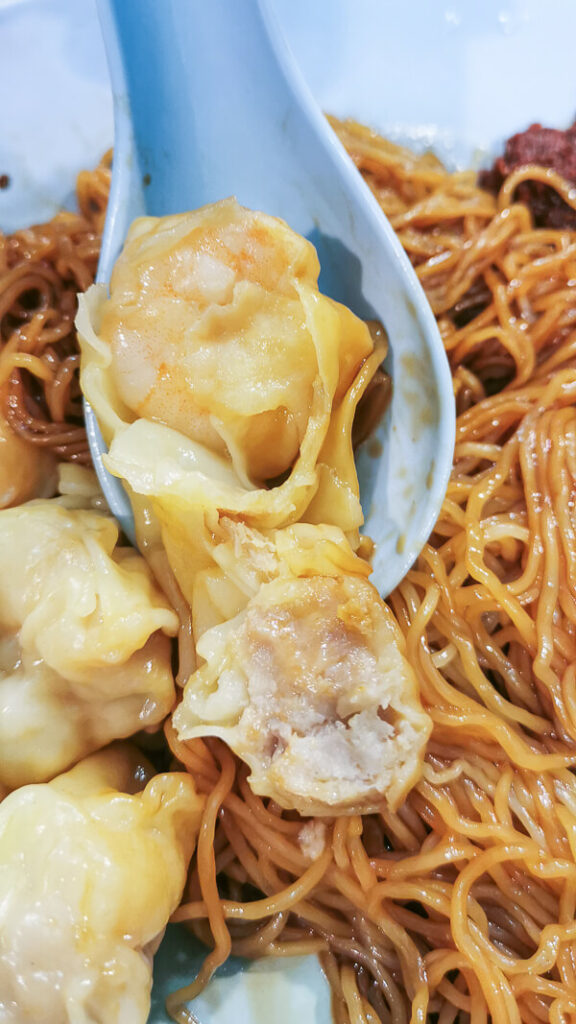 The wanton is made of minced pork and shrimp. It's comparably smaller than shrimp dumpling. It is better than a lot of wantons out there, but I just feel that wanton and dry noodle are not the best combination. I wasn't wowed by this meal. I wouldn't order this again.
Shrimp Dumpling Soup ($5)
We went back to Xiang Jiang for the third time because we wanted to eat the dumpling. This time, we went on a weekday at around 10am. The q was really short, only 2 people were queueing.
We ordered shrimp dumpling soup. It came with 6 pcs of dumplings and vegetables. The flavor of the soup was not so intense, probably because it's still early in the morning, hence the soup was still kind of diluted. But there is still a slight hint of umami.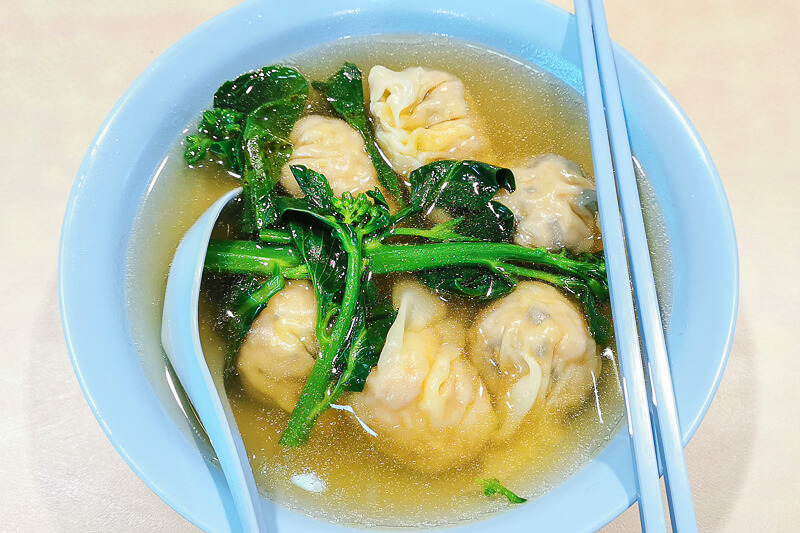 The filling of the dumpling is really generous. As mentioned above, each dumpling came with a shrimp, minced pork, black fungus and water chestnut.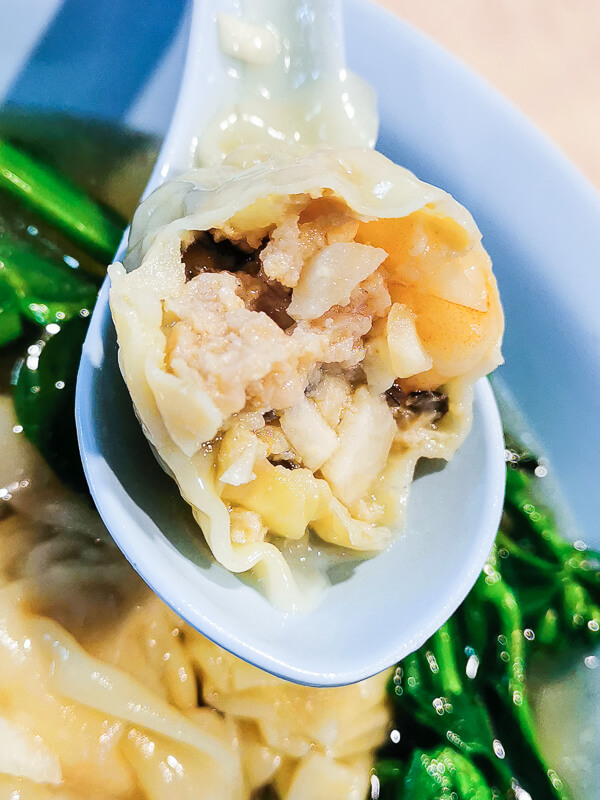 Out of my 6 dumplings, 2 dumplings came with 2 shrimps in it! I guess the shrimp in this "special dumpling" was smaller compared to usual dumpling, hence they felt the need to compensate by giving extra shrimp.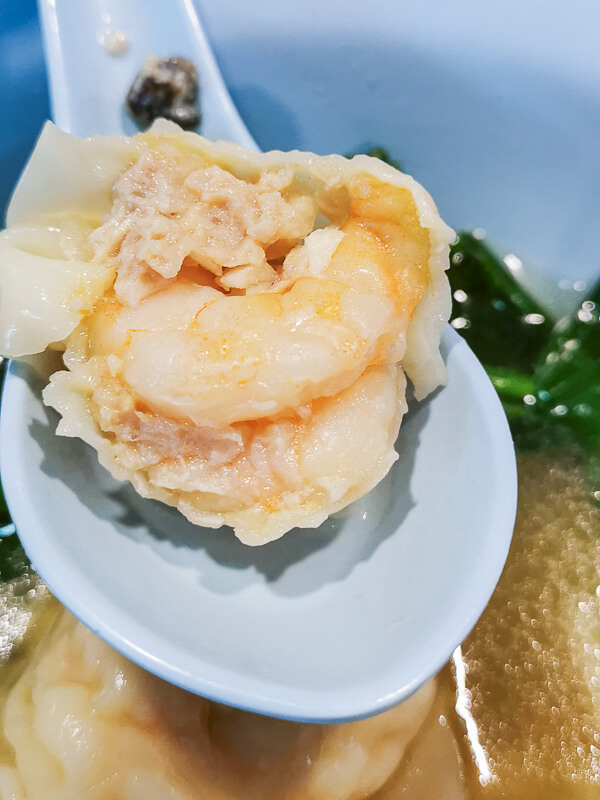 Tips: Do not split the dumpling inside the soup, because you'll miss the juice. Try to place the dumpling on a spoon and bite into it to get the taste of the juice.
The dumpling is something I'll never get bored of eating. I'll probably keep ordering this if I go back to the stall in the future.
Address & Opening Hour
Address:
120 Bukit Merah Lane 1, #01-77, Alexandra Village Food Centre, Singapore 150120
Google Maps location:
https://goo.gl/maps/hnpgujHtiNhTetuS7
Opening Hours:
Wednesday to Sunday: 8am to 2pm
Closed on Monday & Tuesday
Payment Method
They accept various electronic payment using SGQR.
Social Channels
Facebook: https://www.facebook.com/XJSoyChicken/
Join our Telegram Group to get recommendation of breakfast places in Singapore!