Wah Yuen Porridge is a humble porridge stall located at Telok Blangah Food Centre.
Even though the name on the board says "Tiong Bahru Wah Yuen Porridge," the stall is not located at Tiong Bahru. So, to avoid confusion, I will simply call it "Wah Yuen Porridge."
The queue was never overwhelmingly long and there was not much coverage of this stall on the internet. If you're not a regular at Telok Blangah Food Centre, you might easily miss this hidden gem.
I came across this stall back in 2013, when I was working around that area. My colleagues and I were big fans of the porridge, we had to eat this at least once a week. Back then, they were still open during weekdays. But now, they're open only on Saturdays and Sundays.
They serve various types of congee, from chicken, fish, meatball, peanut to century egg. But, the one dish I keep eating over and over again is the steamed chicken congee with plain congee.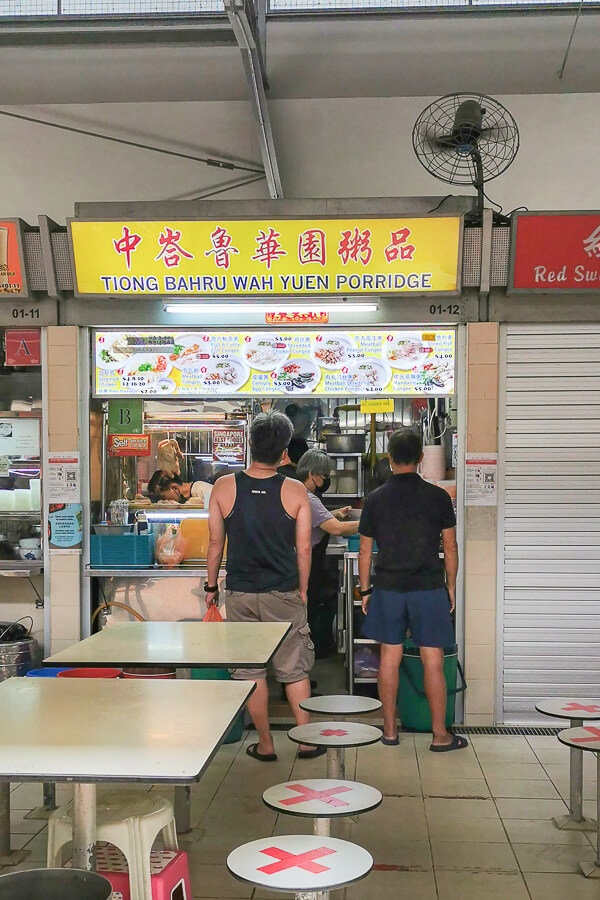 Menu & price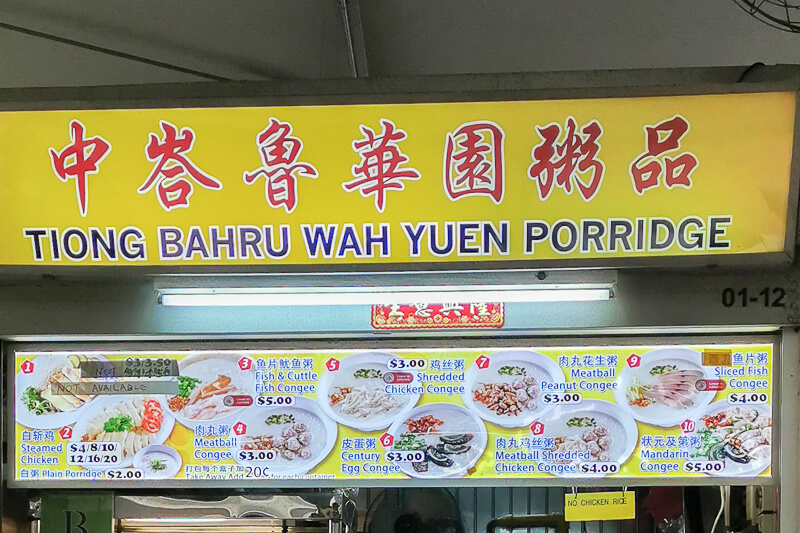 As of 2021, here's the price list:
Steamed Chicken: $4/8/10/12/16/20
Plain Congee: $2
Fish & Cuttle Fish Congee: $5
Meatball Congee $3
Shredded Chicken Congee: $3
Century Egg Congee: $3
Meatball Peanut Congee: $3
Meatball Shredded Chicken Congee: $4
Sliced Fish Congee: $4
Mandarin Congee: $5
Steamed Chicken with Plain Porridge ($6)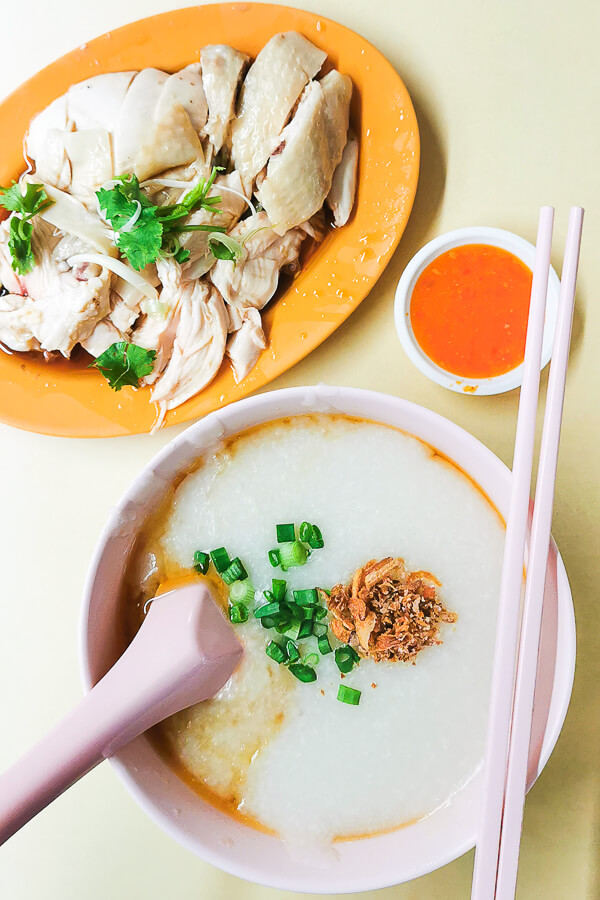 The name says it all. When you order this dish, you'll get a plate of steamed chicken with a bowl of porridge (it's the congee type of porridge).
One unique thing about Wah Yuen is that Auntie always place a tissue paper below the bowl. According to them, the tissue practice serves multi purposes, from preventing the piping hot porridge from slipping around the tray, to being quick relief for any porridge or chili spills. It's a simple innovation that they created with their friends and customers in mind.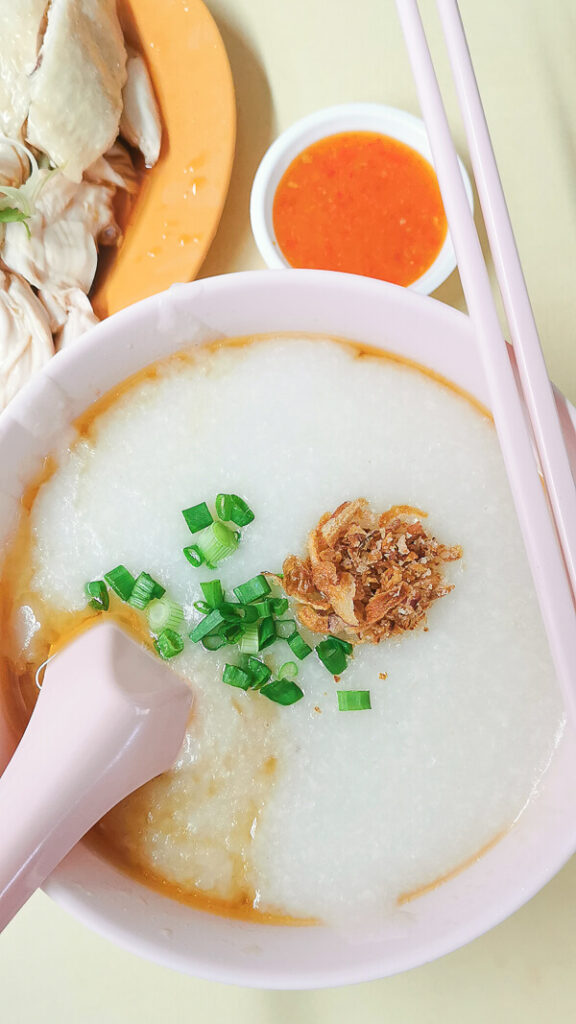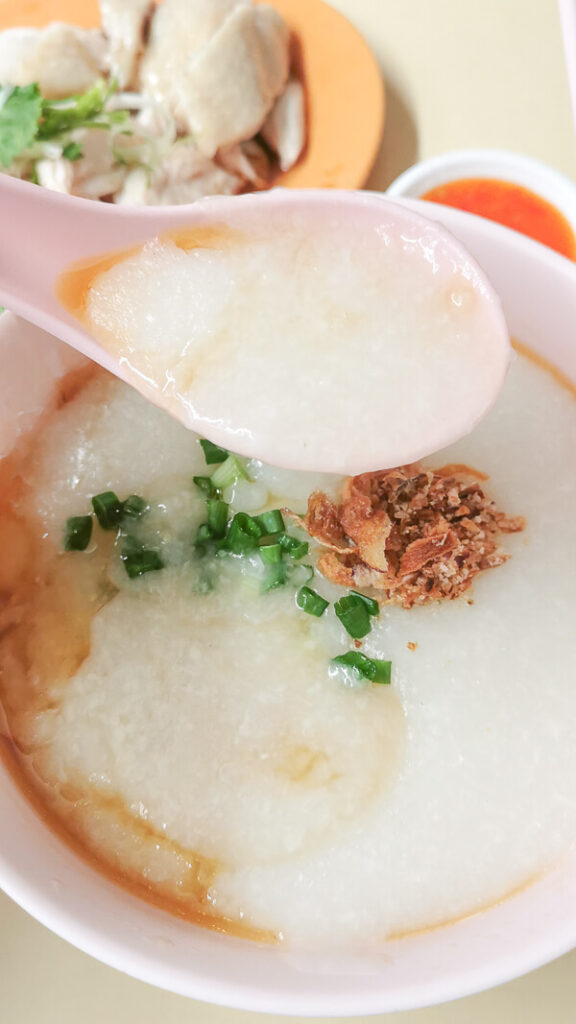 The porridge is piping hot; trust me, don't eat it immediately to avoid getting burnt! We found a way to let the porridge cool down quickly; and that is by dumping the chicken meat into the porridge.
The porridge is silky smooth and has a bit of stickiness when it's hot. On its own, it's not so flavorful. But, when you add the gravy from the chicken, the plain porridge becomes a delectable goodness.
According to Wah Yuen Porridge, they intentionally serve the porridge plain (without a very pronounced flavor) because they understand that everyone has different palate, so they provide various sources of sauces for customers to adjust the taste to their preferences.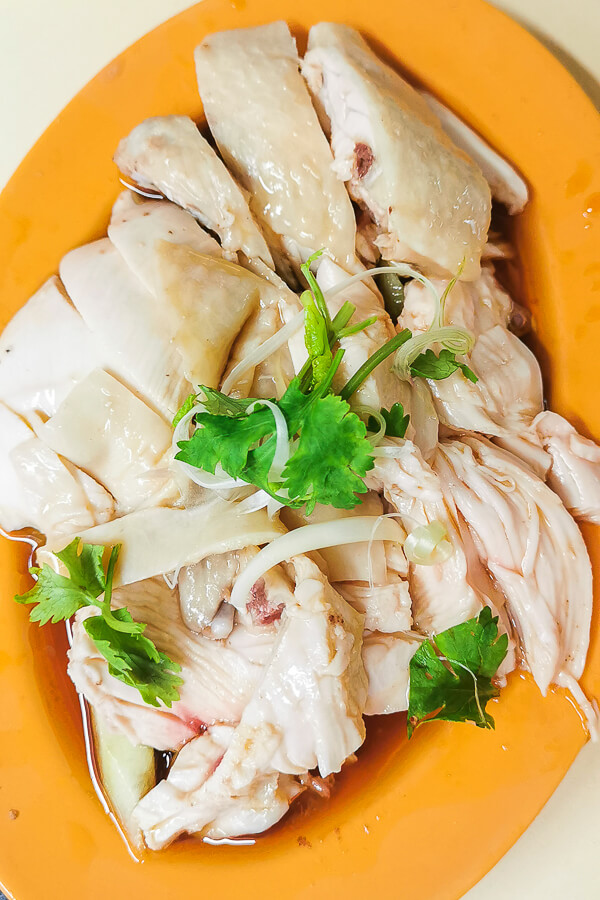 Steamed chicken starts from $4 onwards per portion. You can request for bigger portion if you're sharing with others.
I ordered the $4 option and the portion is quite huge! It comes with tender steamed chicken, cucumber strips, coriander, spring onion and gravy.
I found there's some blood on the chicken, but I simply dump it into the porridge to "cook" it.
Even though I don't work at that area anymore, and I don't stay near Telok Blangah, I would gladly visit the stall from time to time to satisfy my craving for their porridge.
Address & Opening Hour
Address:
79 Telok Blangah Dr, #01-12, Telok Blangah Food Centre, Singapore 100079
Google Maps location:
https://goo.gl/maps/iqqhWHHB2S55HPa59
Opening Hours:
Saturday & Sunday: 7am to 2pm
Payment Method
They accept various electronic payment using SGQR.
Social Channels
Facebook: https://www.facebook.com/wahyuenporridge/
Instagram: https://www.instagram.com/wahyuenporridge/